About US

Vijay Engineering
has grown as a leading
Machinery manufacturer, exporter and supplier
for
Food Industry
since
2008
. Leveraging on a state-of-the art production facility and compliance with strict quality standards and norms of international standards, we have managed to provide a product portfolio which is ISO 9001:2008 certified. Our quality assured range encompasses
Papad Making Machines, Chapati Making Machines, Packaging Machine, Automatic Sealing Machinery, Vacuum Machine, Boilers, Nitrogen Gas Flushing and many more
. All our machines are trusted in the market for their
optimum functionality, robust construction, ability to manufacture bulk products, user friendly operations and minimal maintenance.
Our company is registered under the
Maharashtra Government (S.S.I.Registration No:- 27221201079)
which enhances our credibility to serve you beyond your expectations. Keeping a keen interest towards complete customer satisfaction, we ensure high grade raw materials and other inputs from certified vendor sources. These are then manufactured into finished goods by adapting smooth business processes and a well-coordinated work flow. Further we ensure complete client satisfaction and retention via our ethical & transparent dealings, prompt deliveries, reasonable pricing and easy payment options.
Product Categories

We are manufacturing, exporting and supplying the following range of Machinery:

Sealing Machines
Chapati Making Machines
Atta Mixer
Auger Powder Filling Machine
Automatic Pulverizing Machine
Dough Making Machines
Papad Making Machines

Packaging Machines
Shrink Wrapping Machines
FFS Machines
Food Processing Machines
Industrial Boilers
Papad Dryer Machine



Infrastructure

We have structured a state-of-the-art infrastructural facility featuring high end technologies and methodologies. Our company employees all the requisite tools, equipment and machinery that enhance the overall productivity, ensuring bulk consignments. All the fully-automatic components are upgraded as per the latest advancements in technologies and market trends. These confirm smooth production processes and timely completion of orders.

Quality Assurance
Having attained an ISO 9001:2008 Certification for superior quality of our products, we are referred as a quality-focused player of the market. We adopt strict quality testing measures to examine each stage of product manufacturing as per international quality standards. We have recruited expert quality analysts who underline strict quality parameters to analyze all the processes, from procurement of raw materials till the dispatch of finished machinery, for superior quality results.

Our Satisfied Clientele
We have satisfied a large client base across India. Some of the highly satisfied clients are enlisted below:
BARC- Mumbai
Big Bazaar- Mumbai
Carrefour WC & C India PVT.LTD.- Haryana
Classic Trade Links- Hyderabad
Corporate Kitchen- Mumbai
Datamini Technologies India Ltd.- Bhiwandi
Future Retail Ltd- Delhi
Future Retail Ltd- Hyderabad
Future Retail Ltd- Karnataka
Future Retail Ltd- Mumbai
GlaxoSmithkline Consumer Healthcare ltd- Mumbai

Glenmark Pharmaceuticals Ltd- Mumbai
Golderma Lab Pvt.Ltd- Mumbai
ITC- Mumbai
J K White Cement- Jodhpur
Milestone Food Court- Nagpur
Nokia Simens- Chennai
Star Associated Industries- Belgaum
Star Bazar- Pune
Trent Hyper Market Limited- Mumbai
Vivante Foods Pvt.Ltd- Mumbai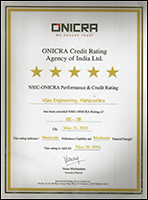 Read More